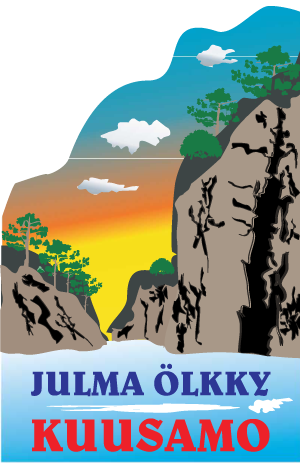 Julma-Ölkky is the largest of the three canyon lakes in Finland, in a deep crevice. The birth of Julma-Ölkky dates back to more than 2 billion years ago, when the surface of the Earth was formed. It is the highest lake on the Hyrynsalmi route in the Oulujoki water system, so its waters flow through Kiantajärvi, along Emäjoki to Oulujärvi, and along Oulujoki to the Gulf of Bothnia.
The length of Julma-Ölkky (Ylä-Ölkky on the map) is about 3 km, and it is about 10 m wide at its narrowest point. Its depth is 50 m. At the highest point, the rocks are about 50 m high. After the narrow section, the crevice continues for a further 500+ metres, first as Pikku-Ölkky and then as Ölkynlampi, after which the crevice widens out and the shores become shallower over the course of 2 km. Ölkynpuro flows at the bottom.
Boat rides on Julma-Ölkky
Opening hours
15th Jun – 15th Aug from 10am to 9pm
16th Aug – 30th Sep from 11am to 4 pm.
Boat trips are organized daily approximately every 45 minutes. Departure of the last boat trip of the day 1 hour before the closing time. Boat rides available at other times by request.
Canoe Rental
Prices include 3 seater canoe, paddles and flotation vests.